Drill rig Anti-slip rotary safety table mats
SUCONVEY manufactures highly professional rig-grip safety mats for use in industrial and commercial environments. Our mats are often used to prevent slips and falls in drill floors and rig environments. Our strong commitment to quality ensures that every part and final design passes a thorough review and testing, which verify its viability, durability, and effectiveness.
Various of Custom Drilling Rotary Table Mats
Custom Rotary drilling platform anti-slip mat
Square Rig floor anti slip mats
Key Features:
High traction surface – Prevent slips and falls
High wear resistant
Discharge water & oil in time
Improves workplace safety
The mat can custom fit to size
Easily installed – reducing labour intensive installation time and costs.
Drilling safety table mats
Technical Parameters:
Size: SU-ZP-175, SU-ZP-205, SU-ZP-275, SU-ZP-375, Customize as drawings
Color: Yellow, plays the role of safety warning
Material: High wear resistance, oil resistance,  Polyurethane Rubber+Carbon/Stainless Steel
Break Strength:  50 MPA
Elongation at Break:  550%
Hardness: 93 +/- 3 Shore A
Tearing Strength: 105.0 KN/m
Rebounding: 20%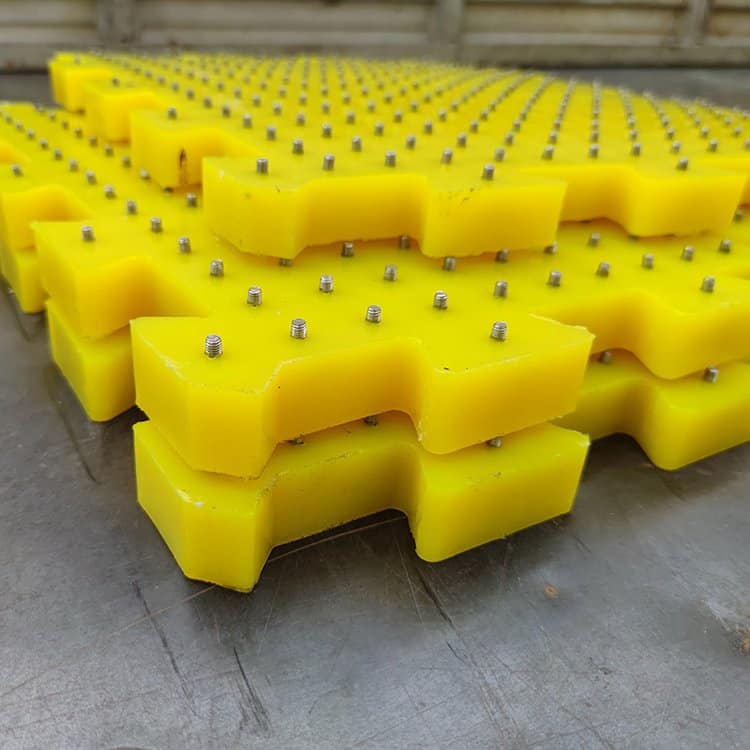 Rotary table polyurethane mat
Standard Size: 
*Support non-standard customization
Quality of The custom PU products
Feature
Specification
Application
Packing
Contact
Feature
Good anti-slip effect made by high pure polyurethane raw materials.
Superior wear abrasive effect makes the slip mats long service life and safe usage.
Neatly arranged nails and PU protrusions make the rig mat not only anti-skid, but have good sewage discharge effect.
Nails made by Carbon/Stainless steel with good anti-corrosion and high strength can be used for long time.
Solid or hollow steel nails can be choose as different weight requirements on the oil drill platform.
The high temperature and anti-flammable PU raw materials helps for the extreme oil extraction environment.
Warning yellow color helps the construction site obviously so that can easily found and safe enough.
PU plate surface is smooth enough without water absortion so the oil and water or other liquid can be easily removed from the plate, so the construction places always clean and safe enough.
We have the most professional engineering and design or modify your drawing as the exactly requirements.
Accurate size as customers desire so that the anti-Slip Rotary Table Mat is easily installation.

 
Specification
Application
Packing
Contact
About Rotary drilling platform anti-slip mat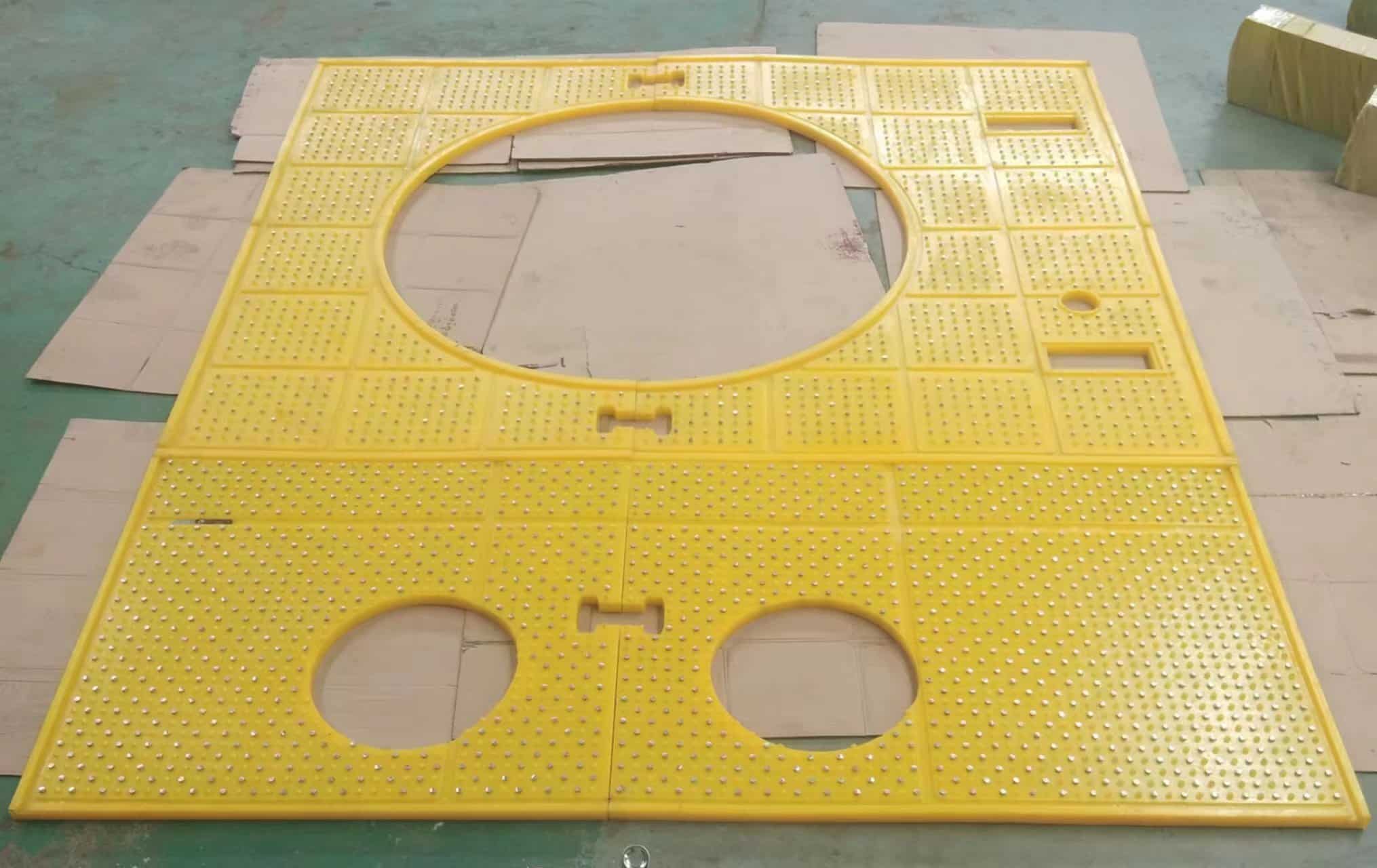 Anti-skid pad for drilling rig turntable platform made of polyurethane material used in oil field, mining, and engineering construction. This new technology materials of the anti-skid pad have a more significant anti-skid protection effect than the existing materials such as steel plate, wood board, or checkered rubber sheet.
The traditional drilling platforms and turntables are skid-proof with low height protrusions on the surface of steel plates or rubber plates, so the oil and water pollution cannot be discharged from the surface in time, and the anti-skid effect is poor and not safe enough. Suconvey new technical anti-skid PU mat for drilling rig turntable platform adopts polyurethane plate as the main plate. Polyurethane rubber is one of the most wear-resistant rubber with high strength, good elasticity, oil and solvent resistance, good low-temperature performance, and good aging resistance.
Drilling rotary table anti-skid board PROCESS
Determine the impact and damage force suffered by the polyurethane mats.
 According to the analysis result, specify the polyurethane formula. By changing the polyurethane's strength and abrasion coefficient, make the product more in line with the customer's working condition.
According to the formulated formula to process the polyurethane raw material.
Treat and clean the metal parts.
Inject the formulated polyurethane material into the mold through a glue injecting machine, and produce a sample. Test the sample and check whether the coefficients are up to standard.
If metal parts are necessary, put the treated and clean metal parts into the mold and begin to inject with polyurethane.
After the polyurethane vulcanization is completed, inspect the appearance of the product and do the following treatments.
Packaging of finished polyurethane mats for shipment.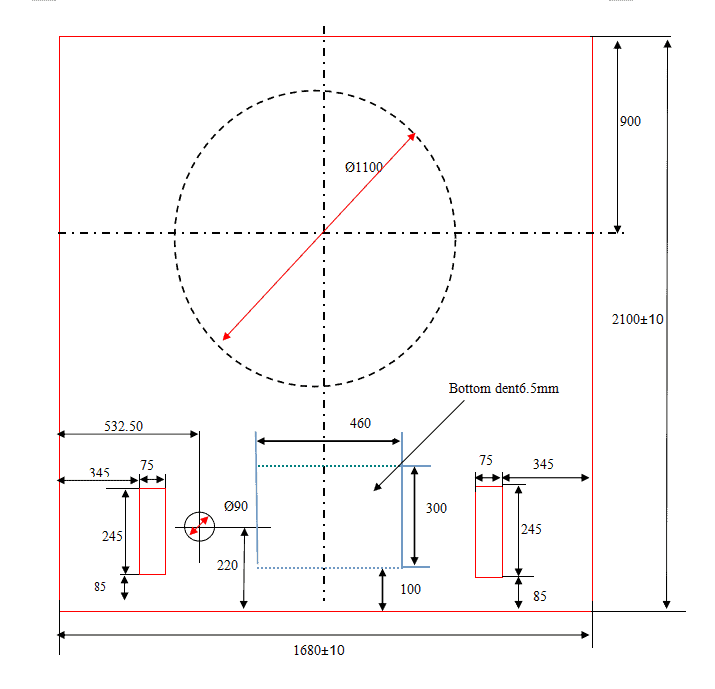 Suconvey Rubber manufacturer use moulds made of die steel and produced by numerical control lathe. By vacuum adhesive injection machine to inject the polyurethane into the injection mold. The advantages are less polyurethane foam and high polyurethane strength.
Six Products Inspection Processes:
1.Material property test.
2.Sample test.
3.Vulcanizing machine temperature and operation time test.
4.Finished product appearance inspection.
5.Quantity,specification and model number inspection.
6.Packaging inspection.
Most frequent questions and answers
1. There are square areas enclosed by many vertical and horizontal drainage grooves the drainage groove on the main mat, protruding rubber particles, and metal nails embedded on the protruding surface square area.
2. The rubber particles and metal nails that are regularly staggered can not only effectively prevent slipping, but also make the operator stand on the pad without discomfort.
3. Liquid can be discharged from the space of nails and particles and then flow into the drainage grooves, last removed to the specific place without flow into river or sea. So the construction site is clean and firm.
Since the surface of the anti-skid pad has vertical and horizontal drainage grooves, oil or water can flow into the grooves and be discharged in time, reducing the influence of oil or water on the anti-skid effect.
1. The protruding metal nails with certain height help workers feel the comfortable feeling and safe when walking on.
2. The polyurethane rubber protruding particles with better wear resistance make the utility model have excellent anti-skid performance and long service life. It can effectively reduce the damage to the rotary table and the drilling tool during the operation of the drilling rig.
3. Therefore, this polyurethane anti-skid pad has excellent anti-skid performance in the case of oil or water pollution and can drain oil and water pollution for drilling rig turntables and platforms in oil fields, mining and engineering construction.
Professional and Expert custom PU products FACTORY
Suconvey Wholesale Can Be Easy & Safe.
Suconvey is a professional silicone&PU rubber products manufacturer that chooses the highest quality raw materials from all over the world as our long time experience in this industry after comparing the materials from different countries and districts, we get rid of the materials with any bad feedback and products.