Ceramic Wear Liner Plate for Chute, Hopper, Tanks
SUCONVEY Ceramic rubber composite liner is embedded in special rubber brick or cylindrical wear-resistant corundum ceramics, with the CN layer or steel bolts welded steel bolts connected to form a bushing. The bushing is suitable for all kinds of funnels, has strong wear resistance, impact resistance, corrosion resistance, is the most advanced wear materials, widely used in power plants, coal,mining, ports and other large pieces of material conveying the funnel, bin, etc.
Various of Custom Ceramic Wear Liner
Custom Rubber Backed Ceramic Wear Liner Suppier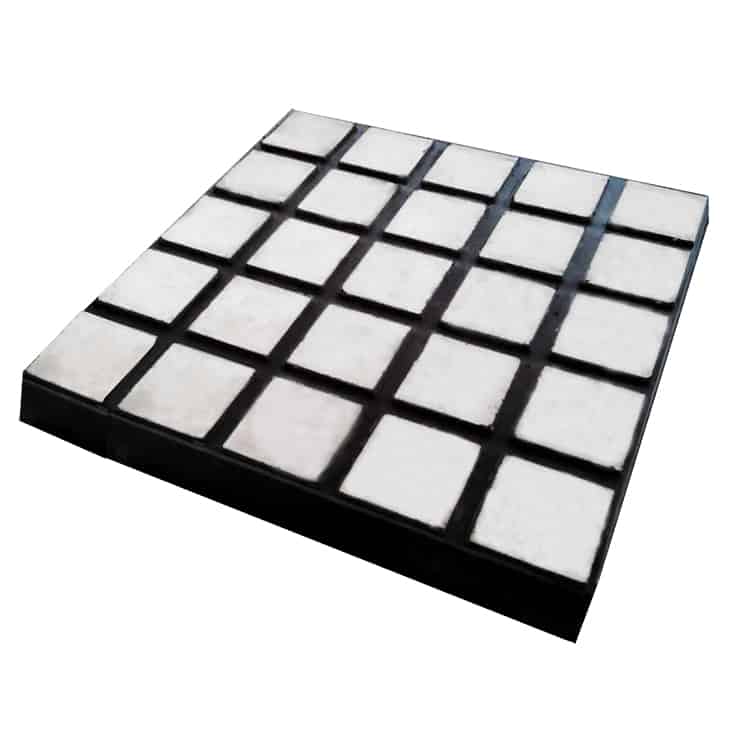 Ceramic and Rubber Wear Liner Steel Plate
Key Features:
Alumina corundum ceramics with hardness above HAR85
Toughened ceramic formula ensures that the ceramic is not easy to break
Each ceramic has a penetrating bolt passing through the bottom steel plate and is firmly welded with double safety
High wear resistant and The mat can custom fit to size
Easily installed – reducing labour intensive installation time and costs.
Rubber backed ceramic mat liner
Key Features:
CN cold bonding layer
Excellent bonding: The ceramics, rubber and steel plate are permanently bonded through our special molding and hot vulcanization process.
Adopt a new formula of acid and alkali resistant rubber
Ceramic wear liner with wear strips, bolt holes, plugs are all available
It is easy to install on site. and extremely wear-resistant
Custom size and thickness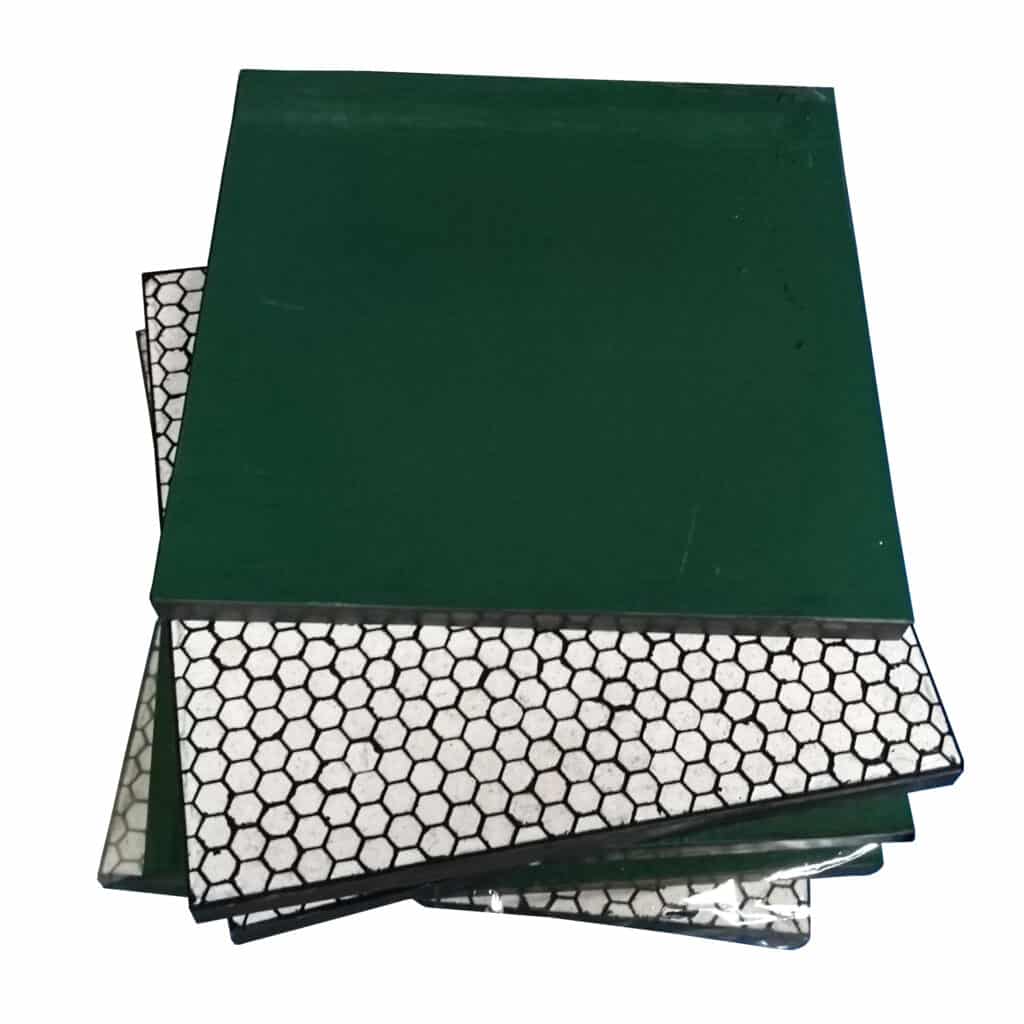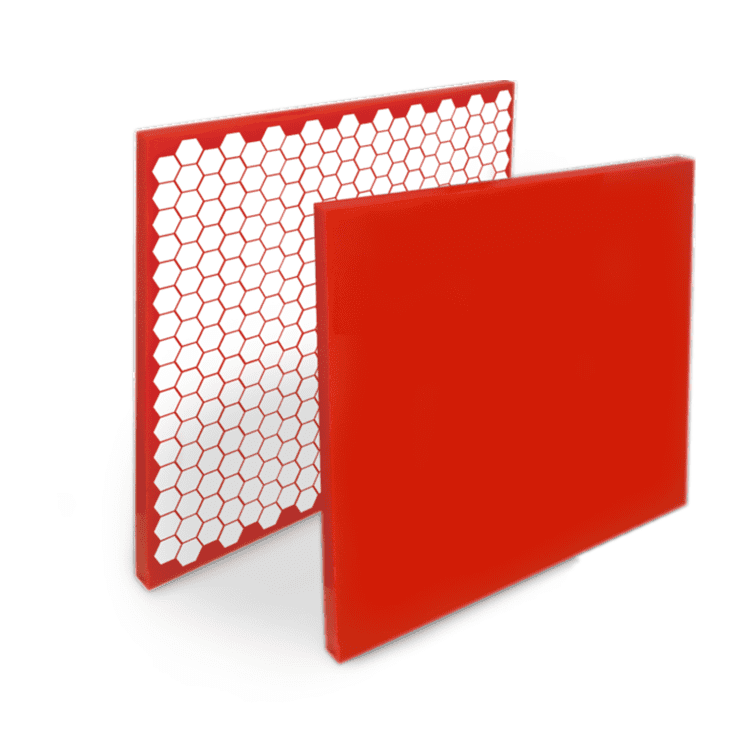 polyurethane ceramic liner impact plate
Key Features:
High traction surface – Prevent slips and falls
High wear resistant
Discharge water & oil in time
Improves workplace safety
The mat can custom fit to size
Easily installed – reducing labour intensive installation time and costs.
Custom Alumina Ceramic Wear Liner Plate
Key Features:
Abrasion resistance: 10 times better than ordinary pipes under the same conditions
Corrosion resistance: ceramic lining and inorganic adhesives can resist acid and alkali corrosion
Anti-scouring: It can resist the scouring of larger particle material without breaking

Inside and outside of the liner is smooth :The

smooth surface allows the material to pass freely without hanging or blocking.

Easy installation:1/3 lighter than ordinary pipes, easy to transport,savinglabor ,easier and faster to install, easily to set up the pipeline higher,reduce the load of supporting hanger equipment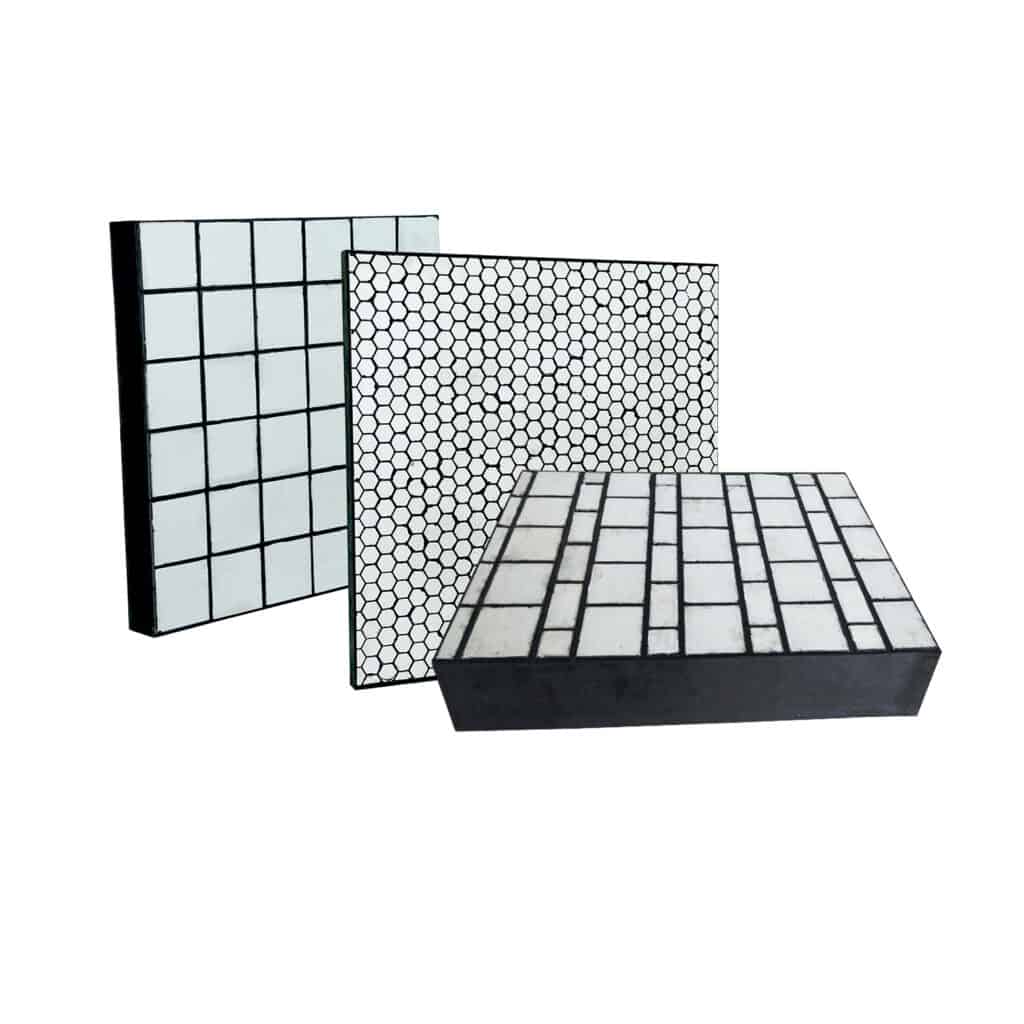 Backed Ceramic Wear Liner Mat
Ceramic Liner Plate Specification
*Support non-standard customization
Quality of The custom Ceramice Liner products
Feature
Specification
Application
Contact
Feature
Anti falling off: ceramic rubber steel plate – body vulcanization, and the combination is very firm;
Convenient installation and replacement: it is provided with a whole lining plate to facilitate replacement and installation and reduce after-sales service;
Good impact resistance: ceramic and rubber are combined, and rubber plays a buffer role, which can effectively absorb the impact force. It can be used in occasions with large material particles, large drop and large impact force.Non stick material: it is used in the service environment with serious wear and adhesion. The ceramic surface is smooth, the resistance of materials passing through is small, and the materials are not bonded.

The design is scientific and easy to install. The lining plate and equipment are connected with the equipment by welding and bolts, and will never fall off. Moreover, it can be cut and decomposed, can be twisted and assembled, has corrosion resistance, superior chemical performance and good stability.

High temperature resistance: it can operate at 0 ℃ – 250 ℃ for a long time.
The lining plate is vulcanized as a whole, and the ceramic rubber steel plate will never delamination, so as to ensure the service life of the product. This technology is at the leading level in China.
Specification
Application
Contact
About Ceramic rubber composite liner Plates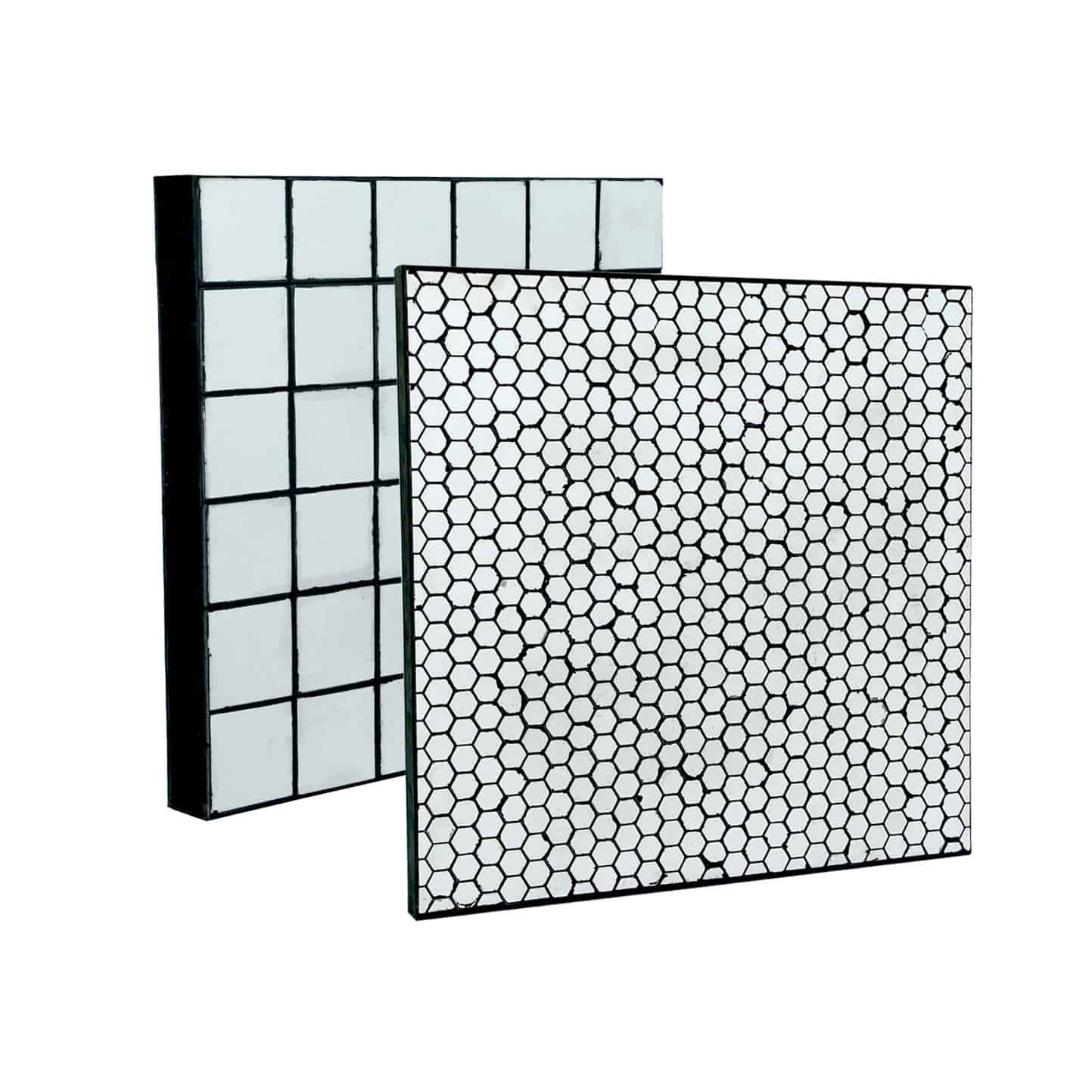 Ceramic wear liner plates are one of the most popular and versatile materials that can be used as an alternative to traditional steel and other metal liners. These ceramic plates are widely used in various industries, including mining, cement, power generation, and steel manufacturing. The unique properties of ceramic materials make them ideal for use in applications where abrasive wear is a concern. These plates offer excellent resistance to wear, impact damage and corrosion.
As a manufacturer of ceramic wear liner plates, we understand the importance of producing high-quality products that meet our customers' specific needs. Our experienced team works closely with clients to design custom solutions that match their requirements precisely. We use advanced techniques like hot pressing or injection molding to ensure our products have uniform density and strength across the entire plate.
At our manufacturing facility, we employ rigorous quality control processes throughout every step of production. We subject each batch of raw material to strict testing procedures before it enters our production line. Our dedicated team also conducts extensive quality checks on finished products using state-of-the-art equipment to ensure they adhere to industry standards such as ASTM or DIN specifications.
Six Products Inspection Processes:
1.Material property test.
2.Sample test.
3.Vulcanizing machine temperature and operation time test.
4.Finished product appearance inspection.
5.Quantity,specification and model number inspection.
6.Packaging inspection.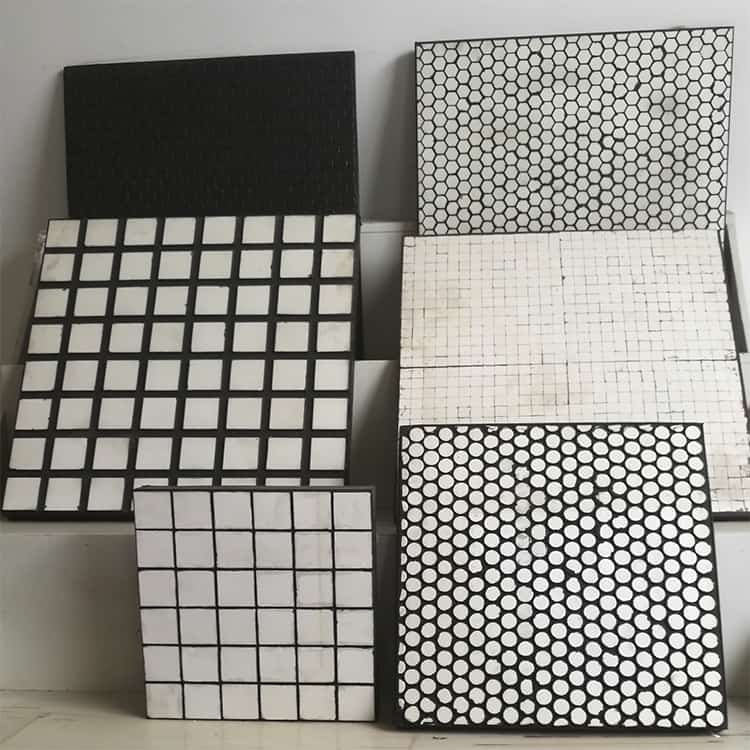 Most frequent questions and answers
Ceramic plates offer several advantages when used as wear liner plates. Firstly, they are extremely hard and durable, making them resistant to abrasion and impact. This means that they can withstand heavy loads without cracking or breaking down easily, thus extending their lifespan.
Secondly, ceramic plates have a high resistance to corrosion and chemical attack. They are non-reactive with most chemicals, which makes them ideal for use in harsh environments where exposure to abrasive materials or corrosive liquids is common.
Lastly, ceramic plates have excellent thermal stability properties. They can withstand extreme temperatures without losing their strength or shape, which makes them suitable for use in applications such as high-temperature furnaces and kilns.
Overall, the use of ceramic plates as wear liner plates offers many benefits over traditional steel liners. They are more durable, resistant to corrosion and chemicals and have excellent thermal properties that make them ideal for use in demanding industrial applications.
Customization is key when it comes to ceramic wear liner plates. Each application requires a specific type of liner plate to maximize longevity and efficiency, and that's where customization options come in. At our company, we offer a range of customization options for our liner plates to ensure that they fit the specific needs of each customer.
One important customization option we offer is size flexibility. We can create ceramic wear liners in various sizes and shapes, ensuring they fit perfectly into the equipment where they will be installed. This not only enhances performance but also reduces downtime and maintenance costs for customers.
Another critical aspect of customization options is material selection. We understand that different applications require different types of ceramics with varying properties such as hardness, toughness or chemical resistance. Therefore, we work closely with our customers to determine which materials best suit their needs before manufacturing custom wear liners plates designed to withstand the harshest conditions while maximizing productivity over time.
Professional and Expert Custom Rubber Factory
Suconvey Wholesale Can Be Easy & Safe.
Suconvey is a professional rubber products manufacturer that chooses the highest quality raw materials from all over the world as our long time experience in this industry after comparing the materials from different countries and districts, we get rid of the materials with any bad feedback and products.