Kelly Hose Rotary Drilling Oil Rig Hose Line Manufacturer
Kelly Hose rotary drilling rig oilfield hose lines are specifically designed to handle the high-pressure and high-temperature requirements of drilling rigs used in the oil and gas industry. These hose provides excellent durability, flexibility, and resistance to abrasion, corrosion, chemicals, and impact.
Rotary Vibrator Drilling Oil Rig Hose Line Supplier
Tubes: Modified Nitrile, black, Specially designed for handling abrasive, corrosive, and oil drilling mud.
Reinforcement: Multiple layers of textile fabric and steel cable, with one layer middle rubber placed between cable layers
Cover: Modified Nitrile, black, specially designed ultra abrasion cover is resistant to abrasion, corrosion, cutting, gouging, oil and weather
Coupling: Swaged couplings, full range of couplings are available, such as hammer union, flanges, hubs, male thread, etc.
Superior Wear Resistance
Extended Service Life
Improved Safety
Excellent resistance to high temperature
Weathering and ozone resistance
High abrasion resistant over
Anti aging, long service life
Customization Options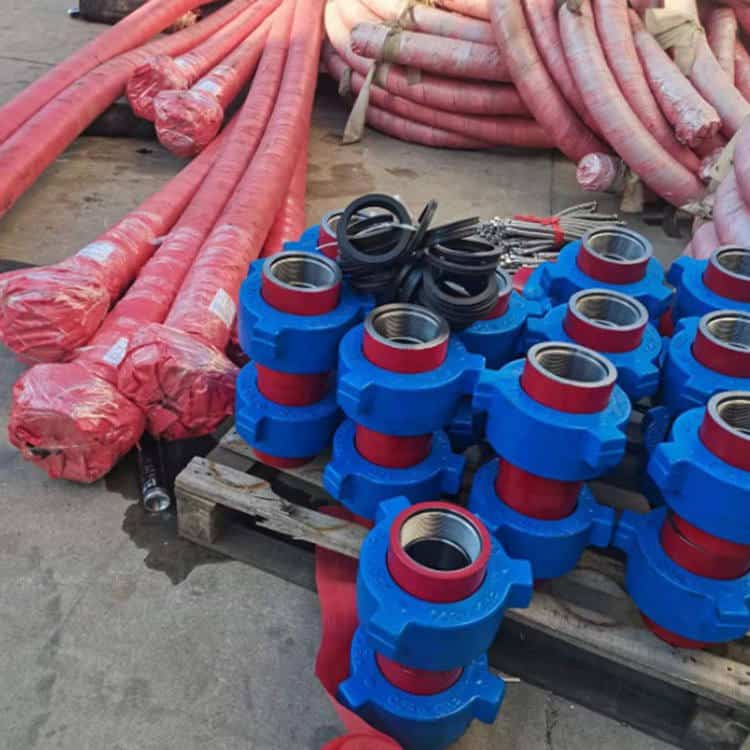 Don't Know What To Start With?
Get A Solution For Your pipeline system
Suconvey Wholesale Can Be Easy & Safe.
No matter what kind of rubber products you want, based on our extensive experience, we can manufacture and supply it.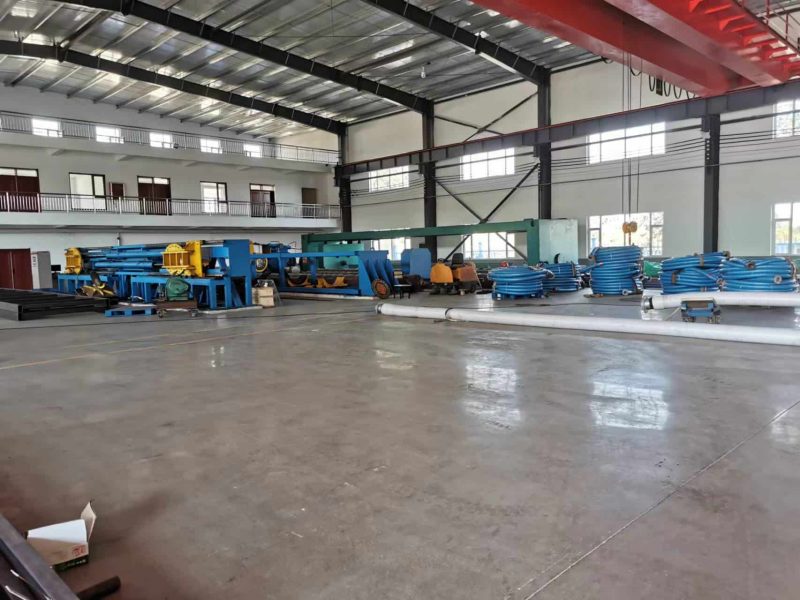 Maintenance and Inspection of Rotary Drilling Hose
Maintenance and inspection of rotary drilling hose is crucial to ensure that the hose is in good condition and safe for use during drilling operations. Regular maintenance involves cleaning the hose after each use to remove any dirt or debris that may have accumulated during the drilling process. This helps to prevent blockages inside the hose that can cause pressure build-up, leading to a potential safety hazard.
Inspection of rotary drilling hoses should be done before each use, looking out for signs of wear and tear such as cracks, kinks, bulges or cuts on the outer layer of the hose. Any visible damage should be reported immediately as it can weaken the structural integrity of the hose leading to rupture under high pressure. The connections at both ends of the rotary drilling hoses should also be closely examined for signs of leaks or loose fittings.
Applications of Oilfield drilling Hoses
Rotary drilling hose is designed for flexible connection between standpipe and swivel (rotary drilling)or between pump and standpipe(rotary vibrator) for pumping mud at extra high pressure in oil drilling and exploration work.
Rotary drilling hoses are widely used in the oil and gas industry for drilling rigs. These hoses are specifically designed to transfer high-pressure drilling fluids from one point to another. The hose is made of synthetic rubber, steel wire reinforcement, and an abrasion-resistant cover layer that can withstand corrosive environments.
One common application of rotary drilling hoses is in offshore platforms where they are used to transport drilling mud from the rig floor to the drill string. Another application is during well completion operations where they help circulate cement slurry around the borehole annulus. In addition, these hoses find their use in geothermal wells, where they help transfer hot water or steam into the production zone.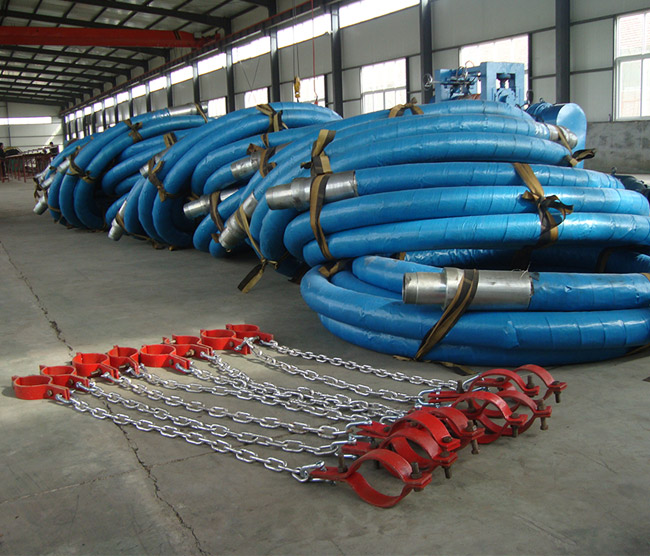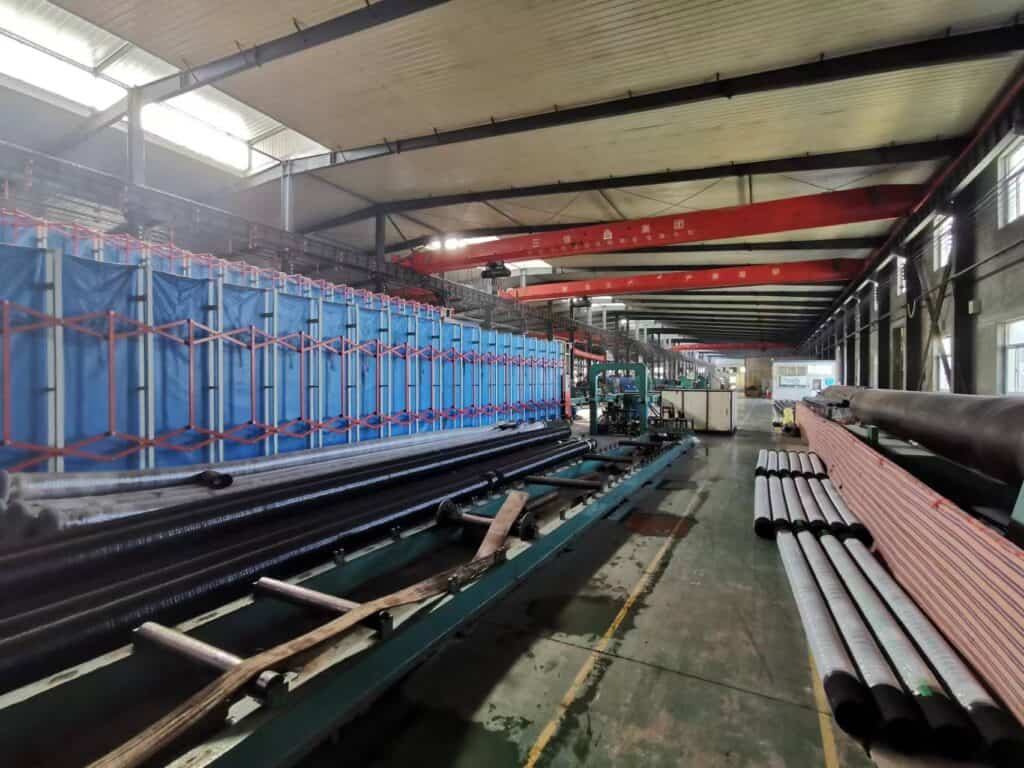 How to Select the Right Rotary Drilling Hose?
First and foremost is ensuring that the hose is compatible with the specific application and rig requirements. This includes considering the type of drilling operation, depth of drilling, and any potential environmental hazards.
Another important aspect to consider is the construction of the hose itself. Rotary drilling hoses typically consist of multiple layers of reinforced rubber or synthetic materials for maximum durability, flexibility, and resistance against abrasion, corrosion, and other harsh conditions commonly found in oilfield operations.
Furthermore, it's crucial to select a reputable supplier that offers high-quality hoses that meet industry standards such as API 7K certification. This ensures that the hose has been thoroughly tested for performance and safety in demanding oilfield applications.
China Pipeline System Designer Manufacturer
Customer Hoses Applications Showcase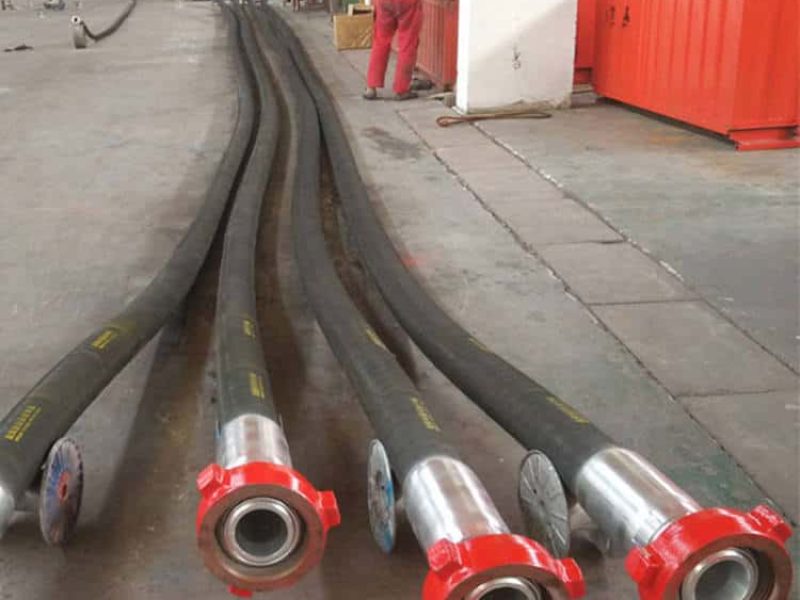 Rotary drilling hose before delivery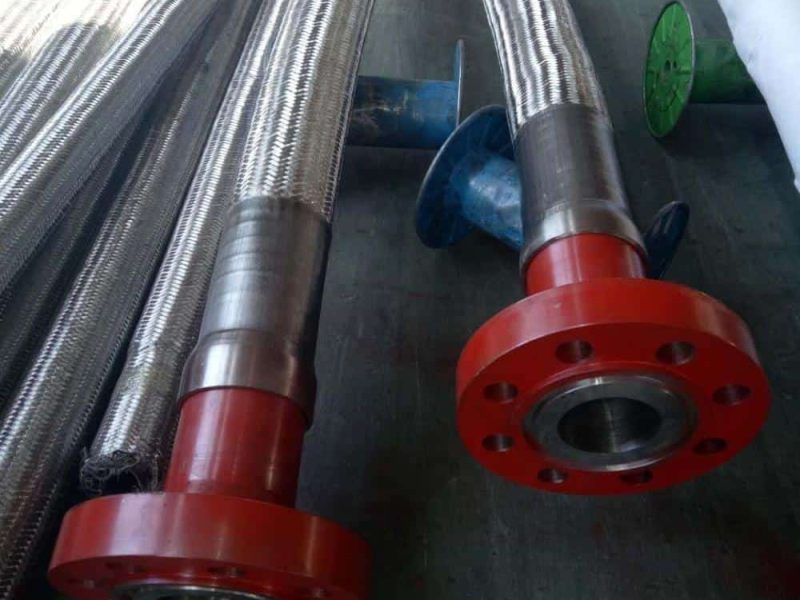 Flange type Rotary drilling hose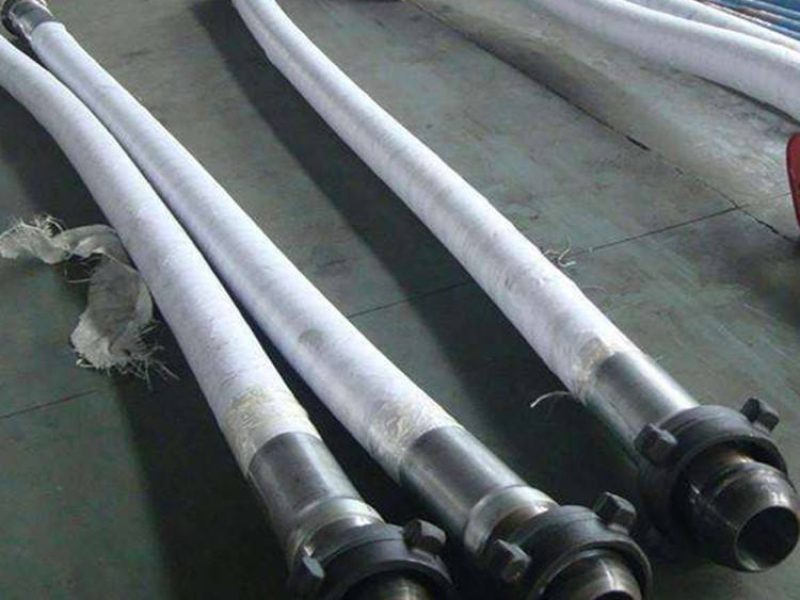 Rotary drilling hose with package
Most frequent questions and answers
Choosing high-quality rotary drilling hoses for oilfield rig operations can provide numerous benefits. First and foremost, quality hoses are designed to withstand the harsh conditions of drilling operations and can resist abrasion, impact, and chemical damage. This ensures that they last longer and require fewer replacements, reducing downtime and maintenance costs.
Another advantage of using quality rotary drilling hoses is improved safety. These hoses are manufactured to meet strict industry standards for pressure resistance and burst strength, which reduces the risk of accidents due to hose failure or leaks. Additionally, reliable hoses ensure a steady flow of fluids between the rig components and prevent spills or contamination.
Finally, choosing quality rotary drilling hoses can lead to increased productivity on the job site. High-quality hoses are engineered with advanced technology that allows for better flexibility and maneuverability in tight spaces. This helps operators work more efficiently while maintaining control over their equipment. In summary, investing in premium rotary drilling hoses pays off in terms of durability, safety, and performance for any oilfield operation.
The rotary drilling hose is a crucial component of an oilfield rig. It is designed to transfer drilling mud, or a mixture of water and clay, from the pump to the drill bit and back up to the surface. The hose also provides flexibility for the rig during drilling operations.
One of the primary reasons why a rotary drilling hose is essential is its ability to withstand high pressure and extreme temperatures. The pumping process can generate pressure up to 7,500 psi, which requires hoses with strong reinforcement material and thick walls. Additionally, drilling operations involve high-temperature fluids that can reach up to 300°F; hence it's essential for a rotary drilling hose's cover material to be temperature-resistant.
Read more: Rig Floor Anti Slip mat
Another critical factor that makes rotary drilling hoses indispensable is their durability and reliability in harsh working conditions. Oilfields are often located in remote areas where accessibility may be limited; therefore, having reliable equipment such as hoses reduces downtime due to repairs or replacements. With proper maintenance, these hoses can last for years providing safe and efficient operation during oilfield exploration activities.